What is Aquarium Nitrogen Cycle and Fishless Cycling?
Aquarium nitrogen cycle, fishless cycling, new tank syndrome, these terms might sound unfamiliar to most beginner fish keepers. The term "cycle" in fish keeping refers to an aquarium nitrogen cycle. It is the biological process of ammonia (NH3) being converted to nitrite (NO2), and then the nitrite is converted to nitrate (NO3).
Ammonia —–> Nitrite —–> Nitrate
Aquarium Nitrogen Cycle is extremely important in fish keeping hobby. Fishless cycling is the best way to do it. If this is new to you, please do not panic. We have all been there once. Just read on, and you will understand everything you need to know about how to prepare a new fish tank for your fish. 🙂
Why do we need aquarium nitrogen cycle?
Most living organisms generate ammonia as waste. Fish is no exception. Fish not only produce ammonia through their gills continuously but also through their waste (poop), which will create more ammonia as the waste breaks down.
In a natural environment such as a lake or a river, there is so much water that the ammonia produced by fish is so insignificant and it will be gone quickly. In a closed system such as an aquarium, ammonia is not going anywhere, and it will build up to higher and higher concentration. Ammonia is toxic. Even the smallest amount of ammonia in the water will burn the fish's gills. A Higher concentration will cause permanent damage, and eventually lead to fish's death. It is what we refer to as new tank syndrome.
Ammonia poisoning is one of the leading causes of death for new fish. Most new fish tanks had never gone through an aquarium nitrogen cycle. In a well established fish tank, there are plenty of naturally occurring bacteria to break down ammonia into nitrite. Then there is also enough a different species of bacteria to break down nitrite into nitrate. Both ammonia and nitrite are toxic, and they are harmful even at the very slightest concentration, which is why they must stay at 0 in any fish tank. Nitrate, on the other hand, is harmless at low concentration, but it will weaken fish's immune system when there is very high concentration.
Most of the beneficial bacteria colonize only in the surface areas, such as the substrate, decorations, etc. However, the filter media has the most surface areas in a fish tank, and it is where the majority of the good bacteria grow on.
The process of "growing" enough good bacteria in the fish tank is what we refer to as "cycle a fish tank," or "aquarium cycling."
What do I need to do fishless cycling in an aquarium?
To cycle a fish tank, you need the following:
1. A fish tank of proper size,
2. An aquarium filter,
3. An aquarium heater if you will have tropical fish or if you want the cycle process to go faster,
4. An aquarium air pump and accessories,
5. An aquarium Water conditioner,
6. A liquid water test kit (I will explain it later) and
7. A constant source of ammonia (I will explain it later)
I recommend you get a minimum size of a 5-gallon tank even for a single Betta. However, a 10-gallon is better because it is only around $13~14 (a 5-gallon tank is about $11), which means it doubles in size for slightly more cost. Also, more water means more stable water chemistry and temperature.
For a filter, I recommend AquaClear power filters for small tanks of up to 30 gallons.
For medium to large tanks, Canister Filters are the better choices. They are more efficient than hanging on the back power filters in biological filtration, and they make no noise if the noise is an issue to you. However, they come at higher prices.
I use an EHEIM Classic 2213 Canister Filter for my 40-gallon tank, and I am very pleased with it. It is a high-quality German brand.
For an aquarium heater, regardless of what people say or how the manufacturer's rated tank size on the heater, a 50w heater can be efficient enough for up to 40-gallon water or even more if you have good water flow near the heater. After I replaced my 100W EHEIM Jager heater with a Rena SmartHeater 50W
, there has been no temperature fluctuation at all. (I replaced EHEIM Jager because it was too shiny for my tank's black background, not because it was not good).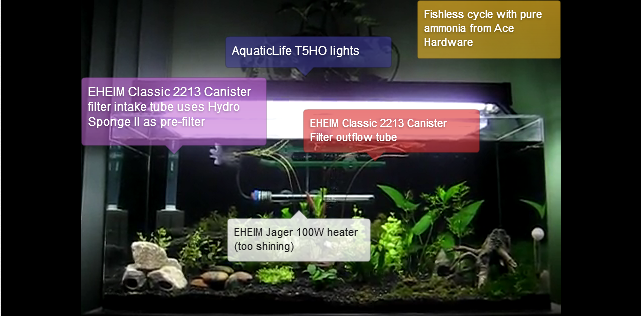 The above photo is my own 40 gallon planted tropical aquarium during fishless cycling. As you can see, basically you need to set up your tank exactly the way as it is ready for the fish. Make sure you use an
aquarium water conditioner
to neutralize the chlorine in the tap water before you add it to your tank. Chlorine can kill the bacteria.
You can use any water conditioner. I have used Kordon NovAqua+, Tetra AquaSafe, Seachem Prime, and Hikari Ultimate for my fish tanks.
While they are all good, I recommend Prime for new tanks because it can detoxify ammonia and turn it into a harmless form – ammonium, up to 48 hours.
How Long Does It Take to do Fishless Cycling?
The whole aquarium cycling process can take up to 6~8 weeks to mature a new fish tank. To grow these bacteria, a constant source of ammonia is needed. Traditionally, people use a few hardy, "expandable" fish as the source of ammonia to cycle their tanks. Most of these "expandable" fish usually will not live through the nitrogen cycle.
Lately, people see the aquarium nitrogen cycle with live fish as cruel. Therefore, more and more people now do a fishless cycle. As simple as the term suggests, a "fishless cycle" is to do a nitrogen cycle without any live fish.
Some people use fish food or a piece of raw fish meat or shrimp as a source of ammonia. While it can work, I do not recommend it. Because it will not only make a mess in your tank with an unpleasant smell, but the whole fishless cycle process will also be slower because you have added another procedure – waiting for the fish food or the fish and shrimp to slowly break down to produce ammonia. It can add a few more weeks to the already slow process of fishless cycling. Besides, you have no control over the amount of ammonia produced in your tank.
The more efficient way to do fishless cycle is the direct use of pure ammonia. What I did was that I bought a bottle of Ace Ammonia Janitorial Strength Formula from Ace Hardware. It is 10% ammonia and 90% water with nothing else in it. It is crucial that it must have nothing else but ammonia and water in it! Some of the ammonia products are for cleaning, and they have soap in there. A good alternative product specifically made for the fishless cycle is Ammonium Chloride Solution by Dr. Tim's Aquatics.
Now, what else do you need? A liquid water test kit with the ability to test ammonia, nitrite, nitrate, as well as PH! It is important to know that most paper strip test kits are not accurate and they are pretty much worthless for fish tank cycling. That is we need a liquid test kit. I have used API Freshwater Master Test Kit.
For Saltwater tanks, you must use a different kit called API Saltwater Master Test Kit.
Steps of doing fishless cycling
The first stage of fishless cycling
The procedure of doing a fishless cycle is straightforward. Start with having your fish tank set up and running, especially the filter, because it is where most of the good bacteria will grow on.
You need to put only a few drops of pure ammonia into the fish tank water. Use the test kit to check the concentration. You can do with 2~3ppm (part per million) if you plan to add only a few fish at a time. If you plan to add full stock at once, 5~6ppm ammonia concentration is needed.
A little note to everyone who might be thinking "how should I get the ammonia concentration mentioned above?" We are not doing some medical procedure here, nor running a lab. 😛 In a fishless cycle, we risk nothing. There is no need to get the absolute precision on ammonia concentration during a fishless cycle. All you need to do is to start small, drop only a few drops of pure ammonia into the tank, then take a measurement. If it measured at 1ppm, and you want 5ppm, then do another 4x dose. It is that simple.
No need to be scared of adding too little or too much. As long as it is not over 8ppm or higher, the fishless cycle will proceed without interference. At higher than 8ppm ammonia, the fishless cycle might be stalled due to it is too toxic even for the bacteria. If somehow you overdosed a lot of ammonia by accident, and the reading is off the scale, all you need to do is to do a partial water change to lower the ammonia concentration back to 5~6ppm. No worry there.
After adding ammonia, all you can do is to wait. You need to check the water with the test kit at least once a day to make sure there is always ammonia in the water. It is very important to know that ammonia can be released into the atmosphere slowly. You might see a drop in ammonia concentration without the nitrogen cycle reaching the next stage — the appearance of nitrite!
My advice at this point is to be patient! It can take weeks before there is any nitrite at all.
The second stage of fishless cycle
Once nitrite appears, it means the fishless cycle has entered the second phase. The group of bacteria (those feed on nitrite) will start to grow as well, as they would not begin to increase in number until the nitrite appear. At this point in the fishless cycle, what you should do is to continue adding ammonia on a daily basis to keep ammonia concentration at your desired level. Keep testing the water twice a day (once in the morning, and once in the evening) to see the changes in ammonia, nitrite, and nitrate.
The third stage of fishless cycle
Once the nitrate starts to appear, you should keep a constant watch on the PH as well. The process of forming nitrate is acidic, and it will slowly eat away at the water buffer. As nitrate increases, PH might drop. In my case, the PH of my water suddenly fell from 8.0 to 5.0, because my water is quite soft with next to no buffer, PH crashed easily. It is important to know that the bacteria's growth will slow down or even be stalled at too low PH. You need to do a partial water change to keep nitrate in check at this stage. You also need to continue to add a few drops of ammonia every day to make sure the source of ammonia never stops. Do not let ammonia drop to 0 for more than a few hours.
Keep doing the above until the day your tank can digest all the ammonia you add daily, with no trace of both ammonia and nitrite. That is, if you add 2~3ppm OR 5~6ppm ammonia in the morning, by the time you test the water in the evening, both ammonia and nitrite are 0ppm. Then, the fishless cycle is complete! Congratulations! You may now safely add fish after some more partial water changes to keep the nitrate low. Nitrate concentration is safe under 40ppm, however, if you want to stay on the safer side, you can keep it under 20ppm since aiming for lower is always better.
===
The advantages of the fishless cycle over cycling with fish is quite obvious.
First, you will not risk losing any fish to ammonia poisoning.
Second, you have the option to fully stock your tank at once instead of adding fish only a few at a time after you have finished fishless cycling.
===
Tips to speed up the fishless cycle
The whole fishless cycling process can take up to 6~8 weeks. There are certain tips will speed up the process.
1. Get a jump start by transferring live bacteria from existing colonies.
If you can get something from an existing well-established fish tank to transfer some bacteria to your tank, you will have a jump start on your fishless cycling. Ask a friend with an established tank for something such as a part of the filter media from his/her filter, or some substrate, or decoration. However, the best thing is to get a part of the filter media from an established filter, because that is where most bacteria are as was mentioned above. If you do that, make sure to keep the decoration, substrate, or filter media wet (Use tank water, or treated water, NOT tap water.) the whole time during the transferring process, or the bacteria will die.
Note: Old tank water has no use for transferring the bacteria. No need to get that, as it is pointless. It is also essential that the old tank you get your bacteria must be disease free!
2. Turn up the heat
If you have a heater, turn the temperature to the high 80F range. The bacteria growth will speed up in warmer water, thus shorten the time needed for the fishless cycle.
3. More oxygen
If you have the air pump and air stone ready, turn it up! More oxygen will aid the growth of the bacteria. This step is particularly important if you did step 2 to turn up the heat. Warmer water holds less air. So you will need more oxygen in the water to speed up the nitrogen cycle.
If you are looking for an air pump, I suggest Rena air pumps. It is quieter compared to other brands. I use both a RENA 300 (1 outlet), and a RENA 400 (2 outlets).
4. Bacteria products
There are products on the market manufacturers claimed that they contain live bacteria to aid the cycling of the tank. Some of them are bogus, or with the wrong type of land-based bacteria which will drown in the tank water after a week.
The only proven working product of the correct types of live bacteria for aquarium nitrogen cycle is Tetra SafeStart (make sure you get the name right. There are many other Tetra brand products, but only SafeStart is what you need to aid the cycle).
(Make sure you buy the bottle rated at least 2x of your tank size.)
While we can use Tetra SafeStart to cycle with fish, I have purchased and tested Tetra Safe Start in two of my tanks for the fishless cycle. The results were entirely different though. The first bottle got a 10-gallon tank cycled instantly. After I had added 2ppm ammonia, it was all gone by the next day with no trace of ammonia or nitrite, and I had a reading of nitrate. The second bottle did not work as well as the first time in a 5.5 gallon tank. Nevertheless, I got a reading of both nitrite and nitrate the very next day, which still cut a few weeks time off the whole fishless cycling process.
How the shops' warehouse stored, this product might have resulted in the different effects in two separate cases. These bacteria might have special needs to survive in a bottle.
Whether or not you choose to use a shortcut for your fishless cycling does not change the requirement that you have to be patient, and it is essential to keep a constant eye on the water chemistry with the liquid test kit! Most important of all is to maintain a constant source of ammonia!
At the end of my fishless cycling, my EHEIM canister filter in my 40-gallon fish tank was able to convert 5~6ppm ammonia daily. I was able to add a full stock of 30+ tropical fish at once with no problem at all. Both ammonia and nitrite stayed at 0ppm at all time.
(If you have any questions or comments on fishless cycle or aquarium nitrogen cycle in general, you are more than welcome to post a thread on our Pet Forum.
Good luck with your fishless cycling! 😀